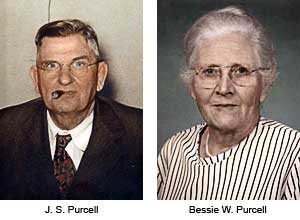 In 1914, J.S. Purcell opened the store in its present location in Louisa County, Virginia. In 1949, a devastating fire broke out, and destroyed the entire operation. J. S. began rebuilding the very next day, and continued to oversee the operation until his death in 1961.
In 1961 Bessie W. Purcell, J.S.' wife, assumed duties and incorporated the business in 1964. The wholesale business was ceased and primary focus was given to retail building materials. She managed the business until her death on December 25, 1970.
Mr. J. G. Purcell, J. S.'s son, took over as President and ran the operation until his death in 1978. During his tenure, J. S. Purcell Lumber Corporation continued in the retail and contractor building supply business.
In 1978, Mr. John J. Purcell, Jr., the third generation, began running the business and retired in 1999. Many changes and developments took place during this time frame, such as joining the Do It Best Corporation co-op, computerization, expanding equipment investment, and adding a tool rental department.
In 1999, David M. Purcell, the fourth generation, assumed President from his father and continues to oversee the business today with the help of his wife, Diane. During David's leadership, added yard space has enabled the business to offer more products than ever before. In addition, Purcell has added an outside sales division, expanded delivery fleet, and increased the use of computerization and technological advancements to improve inventory management.
J. S. Purcell Lumber Corporation currently has approximately 20 employees and is proud to continue serving Louisa and surrounding counties. Aside from its longstanding reputation, J. S. Purcell Lumber is known for its cleanliness and safety. The Corporation has been an OSHA designated SHARP (Safety and Health Achievement Recognition Program) since July 31, 2007. Feel free to read about our status here.
Purcell Lumber is also proud to demonstrate community spirit and support through various local donations, including: Habitat for Humanity, Louisa County Public School System (materials donations to several school affiliated organizations and departments), Louisa County Arts Center, Louisa County Community Chorus, Little League, Louisa Humane Society, and many other charities.